Wondering What to Do in Paris in the Rain?
Here Are Ten Ideas for a Rainy Day in Paris
There's a lot to worry about when you're planning a trip. Will your hotel be nice? Will the kids like the food? Will the weather be ok? Let us take at least one thing off your mind. While some Paris activities are more suited to sunshine, there's no need to let a rainy day spoil your fun. Here's our list of ten things to do in Paris when it rains:
Explore the covered passages
With wrought iron shop signs, mosaic floor tiles, and an abundance of fancy boutiques for window shopping, the covered passages which adorn the right bank of Paris are a wonderful place to spend a few hours. Highlights include the luxurious Galerie Vivienne, and the trendy Passage Choiseul. The rain pattering on the skylights will only add to the fun.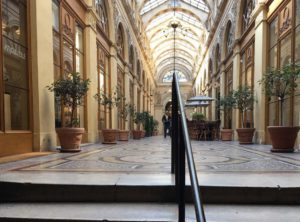 Swimming seems like a strange choice of rainy-day activity – but why not? You'll be indoors, and won't have to worry about drying your hair afterwards! Paris has plenty of pools, but one of the best is the Piscine de la Butte Aux Cailles, an Art Deco gem. It's in Butte aux Cailles, one of several villages in Paris, which is worth exploring when the rain stops.
From the metro network to the sewers (which you can visit in the 7th arrondissement if you're feeling brave!), there's a whole lot going on below the rain-soaked streets of Paris. The star attraction is the catacombs, where you'll stroll past hundreds of neatly piled skulls beneath the streets of the 14th arrondissement. Not for the fainthearted!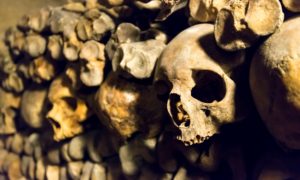 If you've started the day with a wander through the covered passages, hop in a taxi to one of Paris' huge department stores (Printemps, BHV, Galéries Lafayette), where you can easily pass the afternoon, and can find everything from fashion to ice cream!
While away the afternoon in a wine bar
What better excuse to huddle up in one of the many wine bars Paris has to offer? From bustling local joints to more upscale places, there's somewhere for everyone, so find yourself a comfortable seat and enjoy sipping a glass of France's finest as you watch the raindrops on the window pane.
Warm up in the Jardin des Plantes
The gardens of Paris are one of the city's highlights – and there's no need to miss out just because it's raining. The Jardin des Plantes hides a wonderful secret: its three greenhouses. The largest is the Art Deco Winter Garden (Jardin d'Hiver), containing bananas and other tropical plants. And if you are more interested by the wildlife than tropical plants, visit the Grande Galerie de l'Evolution or the Paleontology gallery with an impressive animal bones collection.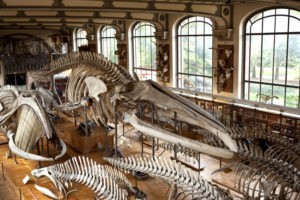 It's no secret that Paris is a museum-lover's heaven. While the crowds at the Louvre or Orsay on a rainy day are enough to scare off even the most avid fan, there are plenty of smaller museums which may not be too crowded.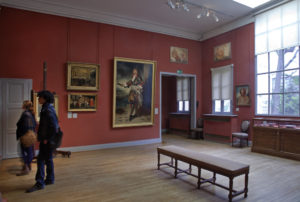 Paris has no shortage of cinemas. For big blockbusters, you can't go wrong with one of France's large chains (UGC, Gaumont Pathe, MK2). For something more interesting, there are even two cinemas – La Peniche Cinema and La Peniche Anako – located on barges on the river itself! If you don't speak French, be sure to go for "VO", which means original language with subtitles.
Cozy up with a chocolat chaud
If you get a little damp, a steaming cup of chocolat chaud will soon warm you up. There are plenty of contenders for the "best hot chocolate in Paris", including the famous macaron-maker Laduree and the family-run chocolatier Charles Chocolatier. However, the long-standing champion is Angelina, whose belle époque tea house overlooks the Jardin des Tuileries. Their famous hot chocolate is so thick you'll be "drinking" it with a spoon.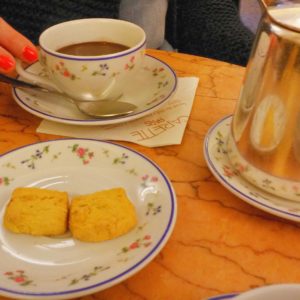 If all else fails, get out the umbrellas and the waterproofs, and simply enjoy having the usually crowded streets of Paris to yourself. Keen photographers will rejoice at the interesting photo opportunities the rain will provide. Sure, you'll get a bit wet, but it's a small price to pay for the beauty of Paris.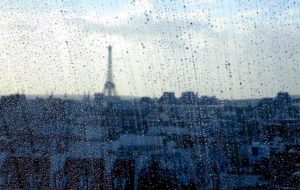 However you decide to attack your day in Paris in the rain, the city isn't short of indoor activities, covered areas and spots whose beauty will only be enhanced by the downpour. If you need some help planning indoor activities and transport, Paris Toujours will be glad to help. We're an experienced Paris trip planner and can plan day trips from Paris, private tours and more.
Get in touch today to start planning your trip (but maybe check the weather forecast first).