Spending winter holidays and Christmas in Paris with kids ? It seems only yesterday that we were sharing our tips for the best summer vacation in Paris with kids. But the nights are drawing in, Parisians are dusting off their chic winter coats, and the Christmas season will be upon us before we know it. If you're headed to Paris with your family this winter, here are our top tips for making sure the kids never forget their Parisian Christmas.
Strap on your skates at the Grand Palais
Every year, the nave of the Grand Palais museum and exhibition hall is covered with ice and transformed into a winter wonderland. Though you'll need to make sure you and your little ones are wrapped up warm, the experience of skating under the glorious domed glass roof will be one they're sure to remember.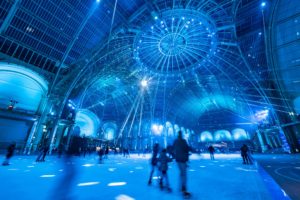 Soak up some Christmas Lights
As we mentioned in our article on romantic New Year trips to Paris, the city of lights truly lives up to its name every winter, when its streets are adorned with festive decorations. From the elegant domed Christmas trees at the Place Vendôme, to the twinkling glory of the Avenue des Champs Elysées, the Paris Christmas lights are sure to impress kids just as much as swooning couples. You can't really avoid seeing Christmas lights if you stroll the city after dark, but particularly fine examples can be found on rue Cler (7th arrondissement), Avenue Montaigne (8th arrondissement) and rue du Commerce (15th arrondissement).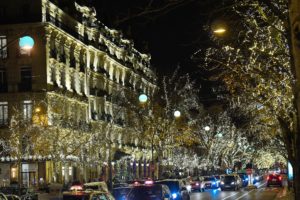 Stop by the Grands Magasins
Two of the largest department stores in Paris, Galeries Lafayette and Printemps do their best to outdo each other every year at Christmas with their theatrical, animated window displays. If you don't mind pushing your way through the crowd, your little ones are sure to be enchanted. Have them wait their turn to step up onto the raised platforms put there to make sure tots don't miss out. Sure, the stores are really just trying to convince you do pop in for some Christmas shopping, but the kids don't need to know that!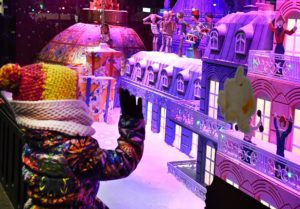 Learn a new skill with a Bûche making class, a must-eat at Christmas in Paris with kids
While France is famous for many culinary delights, there's a certain festive treat that often goes unmentioned abroad: bûche de Noel. If you've never heard of it, it's France's answer to a Christmas or Yule log: a chocolate cake smothered in molten chocolate. While you're sure to find it on the menu at plenty of Parisian cafes, restaurants and tea rooms over the Christmas period, why not go the extra step and learn to make it yourself? That way, you and the kids will be able to start a new Christmas tradition, and bring a little bit of French know-how home with you.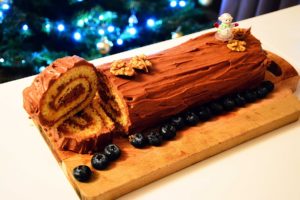 Wander the Christmas markets
Every year, somewhere between 15-20 Christmas markets pop up around the city of Paris. Though they're all a little different, most will include swiss-style chalets where you can browse arts and crafts and Christmas decorations, and you'll be hard-pressed to find one without welcome mulled wine stands and hot chestnuts to munch on. While these might not necessarily appeal to the kids, the twinkling lights, trinkets, and occasional appearances of Père Noel should be enough to keep everyone happy.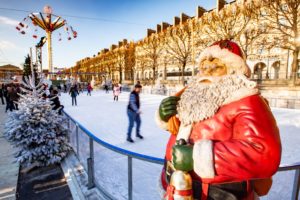 Take a One (or Several-) Day Trip from Paris to Alsace
While Paris is certainly not short of Christmas markets, some of the best in Europe can be found in the Alsace region in north-eastern France. Strasbourg, the capital of the region, holds the biggest and can be reached by train from Paris in less than two hours. But to really experience the fairy-tale magic of these medieval village markets, you might want to spend a night or two.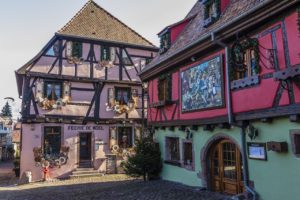 While we're talking fairy tales, the Loire Valley is the land of world-famous French castles, boasting over three hundred chateaux. While these are wonderful settings at any time of year, they're particularly spectacular for a Christmas day trip from Paris. Many of them will be decorated in festive Christmas style – and a certain Monsieur Claus has even been known to spend time there at Christmas!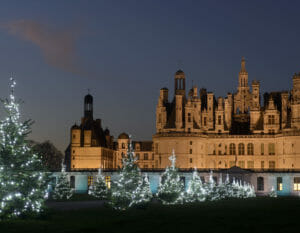 From twinkling lights to bustling markets, to impressive animatronic displays, there's nowhere that incorporates Christmas spirit quite like Paris. If you're lucky enough to be spending your Christmas in Paris with kids, you may be wondering if you can fit in everything this wonderful city has to offer! If you need help organising your trip, planning Paris private tours, or even day trips from Paris, Paris Toujours are here to help. Contact us today to start planning your Paris Christmas adventure.