Introducing our new Paris walking tours. There's nothing wrong with the sweeping grandeur and imposing architecture of the Champs Elysées, or the quaint restaurants and winding streets of Montmartre. No one will tell you that the lively atmosphere and bustling bistros of the Latin Quarter, or the hip boutiques of the Marais are not worth a visit.
But there's more to Paris than these Insta-famous neighborhoods. The places where real Parisians do their shopping, meet for an apéro or hang out on the weekend. Hitting up some of the lesser-known areas of town is a great way to immerse yourself in the city.
No one is going to tell you to skip the Louvre or the Eiffel Tower, but today we'd like to introduce you to a district you might not have heard of.
Encompassing parts of the 8th and 17th arrondissements, this little pocket of Paris contains magnificent architecture, pleasant parks, and charming food markets.
Here's our advice on widening your Paris by exploring the Villiers/Parc Monceau neighborhood.
Top Five Things to See and Do
Shop for groceries on Rue de Lévis
Most of us have spent our lives dreaming of luxurious French dining, with delicacies from escargots to cuisses de grenouilles. There are certainly excellent restaurants in Paris, of course. But if you're on a budget or just fancy a change, why not do as Parisians do? If you want to go shopping for your own food, there's no better place than rue de Lévis. This colorful, vibrant shopping street, with its greengrocers, butchers, fromageries and wine merchants, is a feast for the eyes as well as the stomach.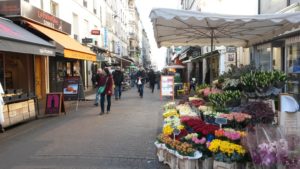 There's no better place to head with your bag of pain, vin, fromage and other fresh produce than Parc Monceau. Established in 1779, Parc Monceau was the brainchild of Phillippe d'Orléans, Duke of Chartres and cousin to King Louis XVI. Designed in the fashion of English and German gardens of the time, the park was filled with follies, antique statues, and even exotic animals. Today, there's still a miniature Egyptian pyramid, a Renaissance arch salvaged from the Paris City Hall, and plenty of other surprises. Of course, it remains a popular spot for Parisian picnickers, so you'll be in good company!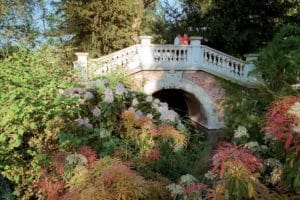 After enjoying your Parc Monceau Parisian Picnic, you could hop on the metro and be gazing up at the Arc de Triomphe in less than ten minutes… but why rush, when there's plenty to see nearby? On the corner of rue Rembrandt and rue Courcelles, just South of Parc Monceau, one of Paris' more surprising sights awaits you. In 1902, a young Chinese immigrant, Ching Tsai Loo, arrived in Paris. By 1926, he was a successful importer of arts and antiques, with enough money to turn his hôtel particulier (townhouse) into a Chinese Pagoda. Today, this magnificent – if incongruous – building is a private museum.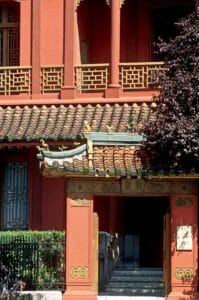 Once you're finished marveling at this glorious mix of East and West, head to the north of Parc Monceau, and cross the border into the 17th arrondissement. La Plaine Monceau – this chic and bourgeois corner of Paris – has no shortage of magnificent mansions, and some of the most impressive can be found on rue Fortuny. Over the years these have attracted plenty of famous names: writer and filmmaker Marcel Pagnol lived at number 13, and stage actress Sarah Bernhardt – a name known to any Parisian – owned the Gothic/Renaissance number 35. Even American actress, dancer and 1940s Glamour Queen, Rita Hayworth, lived just around the corner on rue Prony.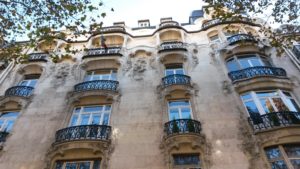 Explore a hip village during one of our Paris walking tours
A short walk further north will take you to the hip and up-and-coming Batignolles district, one of many Parisian neighborhoods which were once villages outside of the city. Retaining its village feel, Batignolles manages to be both tranquil and cool. Long regarded as sleepy and residential, a recent influx of young artists and bobos has led to the opening of plenty of unfussy bars and restaurants. If you happen to be there on a Saturday, there's even an organic famer's market – and if that doesn't say hipster, what does?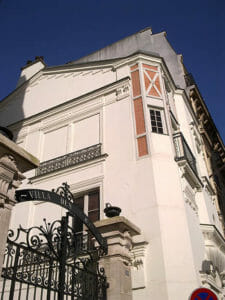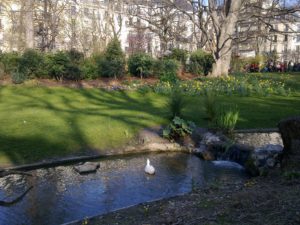 From the surprising follies of the Parc Monceau to the bustling shops of Rue de Lévis, there's plenty to soak up in the Villiers/Batignolles neighbourhood. We'll forgive you if you want to get starry-eyed looking up at the Notre Dame, or share a bisou with your amour in front of the Sacré-Coeur. But for a flavor of the "real" Paris, the 17th arrondissement is a good place to start.
Want to learn more about this neighborhood? Why not book Paris walking tours with Paris Toujours? We've just launched a new  private tour, beginning at the Nissim de Camondo museum with its impressive 18th century furniture collections, exploring the Parc Monceau, and finishing at the lively foodie paradise, Rue de Lévis and the Square des Batignolles.
Interested? Contact us to find out more!