Discover our new live and online Paris live tours
#1 live tour ILE DE LA CITE on June 12th – Limited availabilities – Book your tour in the DAY TOURS section  : 
Be ready to be surprised by Paris, from the well-known monuments to the hidden lovely streets. Full of history, culture and architecture, our live tours will be the perfect way for you to discover Paris gems live from your living room. How exciting does that sound?
Paris-Toujours is a Paris based agency that creates custom made itineraries and private tours in Paris and France. We work with a network of selected partners to make sure you have the most authentic and seamless experience.
As flights are now on-hold and borders still closed, we have been thinking how we could keep on sharing the beauty of our beloved city. We have worked to propose a different way to discover Paris, to travel instantly from home and be able to interact with a local expert guide as if you were taking a real walking tour in Paris.
During 45 minutes, you will be able to attend an immersive live tour with a private expert local guide telling you secrets and fun facts about the very heart of Paris, the Ile de la Cité.
These live tours will be filmed by a professional film maker who knows how to make you feel the Paris atmosphere and setting, as if you were there with us strolling around.
Last but not least, you will have the opportunity to ask your questions to our expert guide. Don't get confused, it is not a conference where you will just seat and listen. You will be part of the tour and interact with written questions while virtually walking in the streets of Paris.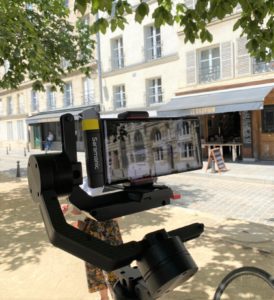 Book your live tour on the ILE DE LA CITE
The first  live tour takes place on the Ile de la Cité which is the oldest area of Paris. Your local guide will take you first to Place Dauphine where you will be amazed by the unique red-stone architecture and the peaceful timeless atmosphere. You will then continue your online discovery walking along the Seine river banks towards the Conciergerie, an ancient state jail where Marie-Antoinette was made prisoner. You will be taken to the famous Tour de l'Horloge and be able to catch a glimpse over the Sainte-Chapelle before heading to the charming Flowers market. Finally, you will be wandering the narrow streets of the old Paris and see Notre-Dame cathedral. This will be the opportunity to speak about the huge reconstruction work of this 12th century gothic masterpiece.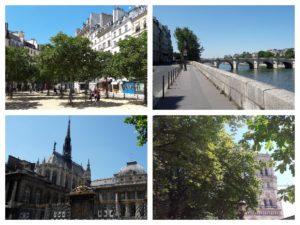 Paris-toujours brings Paris live to your home before you can travel for real. Interested by the experience? #1 live tour ILE DE LA CITE on June 12th – Limited availabilities – Book your tour in the DAY TOURS section : 
We look forward to having you on our new Paris live tours !
#parislivetours #travelfromhome