Paris is heating up, and Parisians are preparing to escape the hustle of the city for a few weeks of sun, sea, and ice cream. Thankfully, there's no need to leave Paris to taste some of the best ice cream around – here are our favorite spots in Paris for a cone of the good stuff.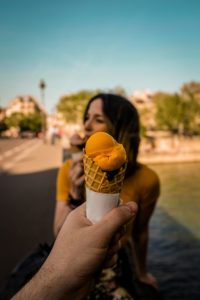 If you ask most Parisians where to get the best ice cream in Paris, they'll send you straight to Berthillon. And it's true that the long lines of hungry-looking tourists and Parisians you'll see snaking down the picturesque Île Saint-Louis street on a summer's day speak for themselves. Though waiting in line may be the last thing you feel like doing in the summer heat, you'll need time to decide between the 78 flavors on offer! Berthillon's offerings range from classic flavors to more unusual ones like earl gray tea, Grand Marnier or lavender, while sorbets such as blood orange, mint, or thyme and lemon offer welcome refreshment in the Paris heat.
29-31 rue Saint-Louis en l'Île, 75004
4,70€ for one scoop, 7,50€ for two scoops
Lebanon may not necessarily spring to mind when talking about the big players in the ice cream world, but the delicate, subtle flavors you'll find here (think rose petal, pistachio or lemon) make Bachir a top spot for some of the best ice cream Paris has to offer. Founded by a team of two brothers way back in 1936, Bachir famously still make their ice cream from the same Lebanese family recipe with organic ingredients. For something different, try an "ashta", Bachir's take on a classic Lebanese dessert. In this version, you'll be presented with single scoops of ice cream rolled in crushed pistachios and topped with a dollop of whipped cream. Be warned, the portions here are generous!
58 rue Rambuteau, 75003
3,90€ for a small, 4,60€ for a classic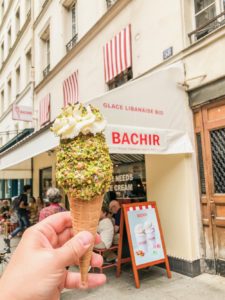 © Bachir – Paris
This 100% organic ice-creamery, Le Bac à Glaces use only natural flavorings and preservatives, and often only local ingredients. Don't be fooled, though: there are plenty of original flavors to be found here. In the mood for sorbet? Your palate will be truly cleansed by tart rhubarb, kalamansi or fig. If you prefer ice cream, you'll find unusual flavors like cinnamon, halva or matcha. Looking for a fun addition to a Girls' Trip to Paris? You'll love the range of alcoholic creations, like morello cherry with kirsch and dark chocolate, or mirabello with plum brandy. Sounds like the perfect start to a night on the town!
109 rue du Bac, 75007
3,50€ for one scoop, 5€ for two scoops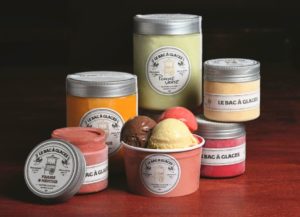 © Le Bac à Glaces – Paris
Michalak at Printemps du Goût
Michalak is the creation of French Master Pâtissier, television personality and author Christophe Michalak. Though famous for its religiouses and other pastries, the Michalak counter at Printemps du Goût (the famous department store's gourmet food court) now offers a small range of ice creams. Flavors, while not startling, are all paired with a coulis, which makes things more interesting: think coconut with raspberry-violet, or chestnut with litchi. At over 5€ for a single scoop, this ice cream doesn't come cheap, but the views from the top floors of Printemps make it worth it.
7th & 8th Floor, Printe
mps Homme, 64 Boulevard Haussmann, 75009
5,50€ for one 1 scoop with paired coulis
In 1947, Antoine Raimondo opened a small ice cream shop on the Boulevard de Picpus – the very same shop, in fact, that you'll see if you visit Raimo today. Raimo now offer over 150 flavors of ice cream, including their famous trois épices (cardamom, pepper and coriander). If you're in the mood for something more refreshing, try sorbets such as lemon-basil or pink grapefruit. If you're interested in something more substantial before your ice cream, check out the Raimo tearoom, with its chic, cozy interior and decent savory menu. But if you want to just have ice cream for lunch instead, go ahead – we won't tell!
59-63 boulevard de Reuilly, 75012
5,90€ for 1 scoop, 8,60€ for two scoops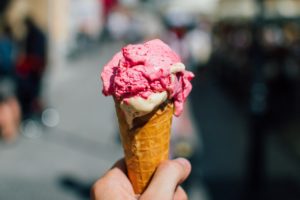 With this list to hand, you'll be able to build in some time into your trip for finding the best ice cream in Paris. For everything else, you may need a Paris trip planner. We're experienced in building custom itineraries, Paris private tours, and even day trips from Paris. Contact us today to find out how we can help your vacation in Paris be one you'll never forget – and not just because of all the ice cream!