Planning a winter getaway with the one you love ? There's no better idea than planning to spend the Nea Year in Paris, a city that never fails to live up to its romantic reputation. The chance to spend New Year in Paris doesn't come every day, so if you're lucky enough to be headed to the City of Love this winter, you'll need to make the most of it! Here are our tips for the perfect Paris New Year trip.
A hotel you won't want to leave
Any great vacation starts with a great hotel. And since this is a romantic trip – well, what says romance more than a spa to relax in? There are literally hundreds of hotels to choose from, but some of the best rated spa hotels in Paris include Le Royal Monceau-Raffles, which boasts the largest hotel swimming pool in the city, plus Turkish Baths and ice fountains,  (not to mention the art gallery, cinema, and two Michelin starred restaurants). For something a little more intimate, you could try the Pigalle district's Maison Souquet, whose "Salle d'Eau" – a small, dimly lit private swimming pool and hammam – makes it a perfect couple's retreat.
A sprinkling of twinkling lights at New Year in Paris
Did someone say City of Lights? The Paris Illuminations begin to twinkle around the city at the end of November, and are on display until early January. An evening stroll around pretty much any area of the city will be bound to pass by some beautiful Christmas lights, but there are a few specific places that are not to be missed.
The most famous display is along the Champs Elysées, where a million lights (no, really!) adorn the street from the Arc de Triomphe to the Place de la Concorde. For a more subdued, elegant feel, head to Place Vendome to admire the perfectly domed, gently twinkling Christmas trees. And if you're in the mood for something extremely lavish, one of Paris' large department stores will certainly not disappoint – and hey, why not stop for a spot of shopping while you're there?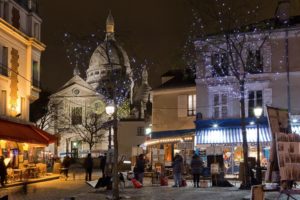 A glass of champagne (or several)
Does anything say romance more than champagne in Paris? At New Year? For a romance overload, head to Dilettantes, a champagne cellar/bar situated in the heart of the Latin Quarter, who offer a variety of tastings. The Terroir tasting will give you the chance to taste three terroir driven champagnes, while the "gourmet" version pairs them with French comté cheese and Spanish pata negra ham. Feeling hungry? They also do a lunch tasting, where you'll get to taste three champagnes paired with plates of artisanal products, in the romantic setting of their 17th Century vaulted cellar.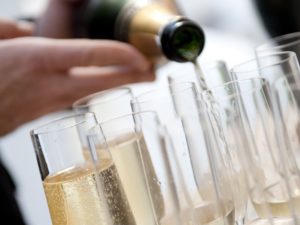 One of the best ways to see the sparkling lights adorning Paris in winter is to take a cruise along the Seine… and since it's New Year, why not splash out and make it a dinner cruise? Yachts de Paris' restaurant ship Don Juan II embarks every evening on a scenic tour along the Seine, where you'll be able to cozy up and watch the sights slide by while tucking into a gourmet dinner. It's luxurious, yes – but on this trip of all trips, you deserve it.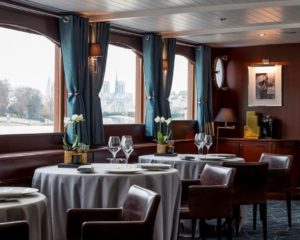 A cozy afternoon in a tearoom
What better way to warm up after a day's chilly sight-seeing than a steaming cup of hot chocolate? And we're not talking just any old hot chocolate – any Parisian will tell you that some of the best chocolat chaud in the world can be found in Paris. To make it even more seasonal (and decadent – you're on vacation after all!), why not add in a taste of bûche de noel – France's answer to a Yule Log? There are plenty of tea rooms to choose from, but Angelina or Carette, with their belle époque restaurants and unbelievably thick hot chocolate, is hard to beat.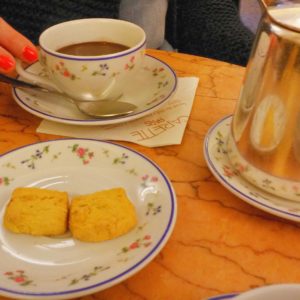 At any time of year, Paris is one of the most romantic cities in the world. But add in the twinkling Christmas lights, charming Christmas markets, and plenty of spots to cozy up with your amour, and your New Year in Paris may just be the most romantic trip you'll ever take.
Of course, romance should be spontaneous – but trips abroad take planning. Why not make your life a little easier, and consider using a Paris trip planner? At Paris Toujours, we're experienced in arranging day trips from Paris, private tours, transport and plenty more. Ready to start planning your Paris New Year trip? Get in touch today.